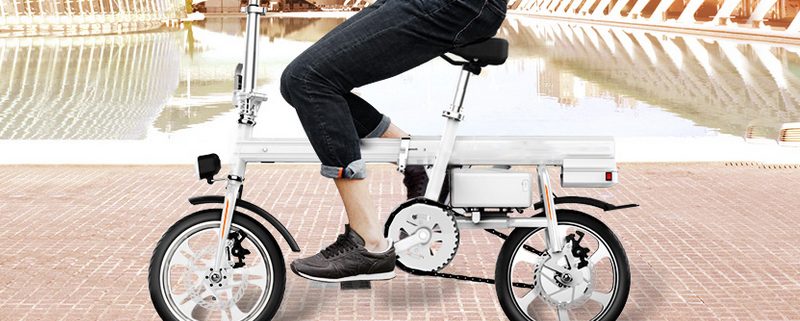 As an ideal ambition with ambition of intelligent electric Bicycle, Ai Erwei R6 of course not only satisfied with the current results, so first to set a small target it, hoping to break through 2 million mark!
The goal is good, but want to achieve, but also must have to match the strength.
Let's take a look at the strength of the Irvine R6.
【Performance】
The Irvine R6 has three ride modes to choose from:
Bicycle mode: do not consume electricity, and cycling the same trample riding, can effectively exercise;
Electric power mode: power + manpower, 11 stalls adjustable, saving power and can exercise the body;
14-inch tires, built-in hub motor, can provide 230W for the vehicle a strong driving force, relying entirely on electric energy when riding, the maximum speed of up to 20km / h.
【Folding articles】
The fold should mainly be seen from both the portability after folding and the difficulty of folding.
Ai Erwei R6 main frame with aluminum alloy material, vehicle weight is only 19kg, while the maximum load has reached 100kg.
After folding the volume of 910 × 400 × 750mm, carried around and will not feel inconvenient, whether into the elevator or retreat in the office or at home are not obvious.
On the folding method, Ai Erwei R6 folding process is very simple, and its main frame folding is fully automatic, only through the rear of the button can be directly manipulated, and then folded the bar, put down the seat, both You can complete all the folding.
【Battery】
For an electric bike, the battery is a very important component, is the so-called into the battery, the battery is also lost.
The Irvine R6 battery pack is placed outside the seat, which is simple and easy to disassemble and does not require any props.
Charging, you can either directly connect the charger to charge, you can also remove the battery pack to separate charge, after removal through the car to charge, is also very convenient, especially for 4 +2 travel.
For the use of security considerations, the battery pack also wrote 8 heavy circuit protection, in a comprehensive upgrade charge and discharge efficiency at the same time, so that security is more secure.
R6 battery pack also extends the USB interface, can help out when other electronic equipment to charge, do not worry about the power is about to run out.
【Details】
R6 lever on the right side of the configuration is equipped with a driving computer, can help the rider in the three riding modes free to switch, and real-time monitoring of riding speed, mileage, the remaining power and other data, set a variety of models, the vehicle failure Reminders and so on.
R6 rear is equipped with a brake warning light, can automatically light up when the brake, to remind the rear of the vehicle, passers-by to maintain a safe distance.
For the Irvine R6 such a smart bike, how do you feel?
If you feel heart, and would like to know more words, may wish to open all the links to further understand it
https://turnlife.cn/wp-content/uploads/2017/04/news02-3.jpg
400
800
admin
https://turnlife.cn/wp-content/uploads/2017/04/turnlife.png
admin
2017-04-13 03:43:59
2017-06-26 08:43:06
Ai Erwei R6 automatic folding bike